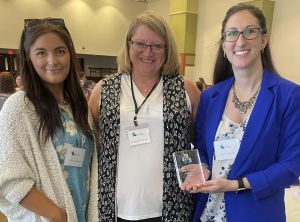 CHAMBER RECOGNIZED FOR COLLABORATION AND CONTINUED SUPPORT
Fulton County Chamber of Commerce receives NCI-AHEC Partnership Matters Award
Rochester, IN – The North Central Indiana Area Health Education Center (NCI-AHEC) recognized the Fulton County Chamber of Commerce (Chamber) with the NCI-AHEC 2023 Partnership Matters Award at the Indiana AHEC Network 2023 Conference in Indiana. NCI-AHEC has been based at 822 Main Street in Rochester with other non-profit organizations, including the Chamber, since its inception in 2010.
"Every year we rely on our partners to be successful in our mission," says Janiece Stover, NCI-AHEC Executive Director. "This year, when we think about what provided us the opportunity to create and achieve successful programs, it had little to do with the programs themselves and everything to do with the support that we were receiving that encouraged us to keep going." Chamber Staff have provided encouragement and support as well as connections and resources to aide in the successful execution of projects and events.
"We are honored to receive recognition for our efforts," acknowledges Chamber Executive Director Jillian Smith. "This was certainly unexpected. Our goal every day is to support area partners and ensure organizations have the tools they need to succeed. We are fortunate that NCI-AHEC has found its home in Fulton County and that they continue to focus on the future workforce of health care in rural communities."
###
About North Central Indiana Area Health Education Center
The Area Health Education Center (AHEC) was first funded by Congress in 1971 to recruit, train and retain a health professions workforce committed to underserved populations. AHECs strive to meet the needs of the communities they serve through robust community-academic partnerships, with a focus on exposure, education, and training of the current and future health care workforce.  Today, 46 AHEC programs with more than 261 centers operate in almost every state and the District of Columbia. Approximately 120 medical schools and 600 nursing and allied health schools work collaboratively with AHECs to improve health for underserved and underrepresented populations. NCI AHEC's region includes the 11 counties of Benton, Carroll, Cass, Clinton, Fulton, Howard, Miami, Pulaski, Tippecanoe, Tipton and White.
About Fulton County Chamber of Commerce
The Fulton County Chamber of Commerce is a well-established, reputable organization that partners with its members to be the center of commerce and connection for Fulton County. The Chamber works closely with economic development and government partners to ensure that benefits, events, and programs supported are pertinent to the Fulton County business climate and community.