With this powerful tool, you can optimize your online business listing and take advantage of exclusive opportunities to promote your business.
Log in to the MIC with your username and password.  If you do not know your username or password, click "Forgot your username/password?" and enter the email address associated with the member account. For assistance or to set up a new account, contact Stephanie at chamberassist@rtcol.com or 574-224-2666.
Your MIC Dashboard  There's a lot happening on your dashboard, but it's easy to find your way around with a few tips. Select a button on the main navigation bar to see the corresponding options on the side menu.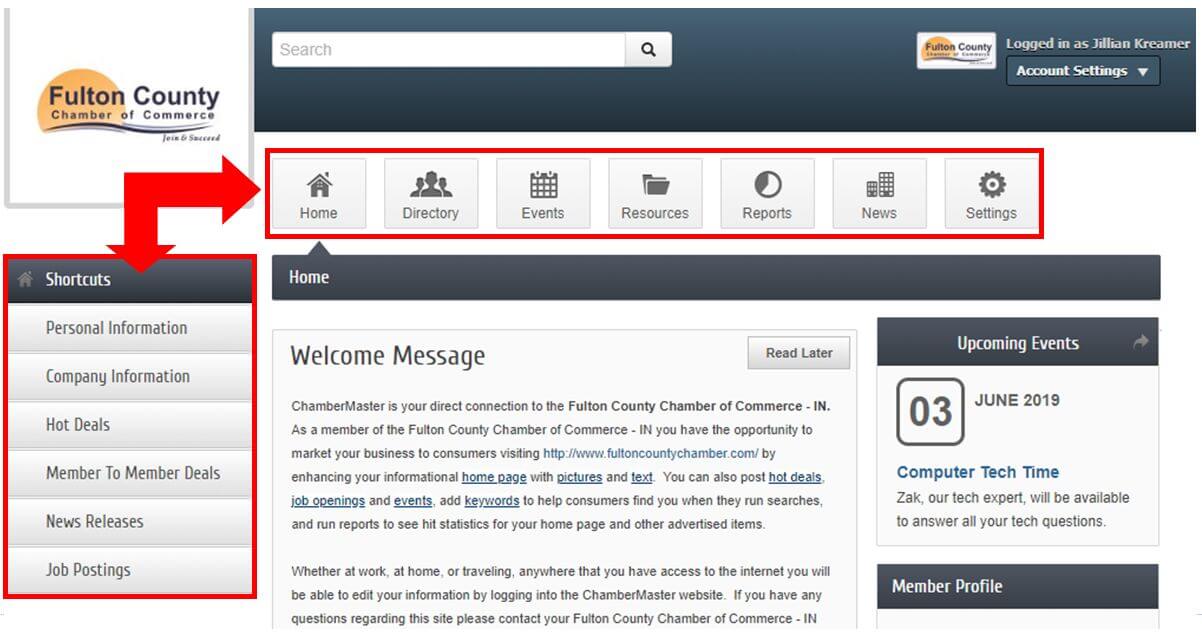 Home
From the Home menu, you can update your Personal and Company Info as well as post and manage Hot Deals, Member to Member Deals, and Job Postings.
Start by selecting Company Information from the Home menu. This menu allows you to check and update your company name, address, company contacts, and contact information. In addition, it allows you to add your logo, detailed information about your company, photos, videos, location map, and social media links.
TIP: The more info and media you add, the more dynamic your listing will be in our online directory. Help your potential clients and customers connect with your business by completing your Company Information page.
Membership Directory - Get to Know Your Fellow Members
Need an optometrist? What about a gift store or accountant? Maybe you just need contact information for a fellow Chamber Member you met at a Business After Hours? Make use of the MIC's internal directory, where you can search for members by keyword, category, business name, or representative name.
Events
See details and register for all upcoming Chamber events or even add your own event to the calendar.
Resources
From time to time, the Chamber may upload documents to this area which members may want to reference. Here you may access helpful information and guides to making the most of your Chamber membership!
Reports
Under the Reports tab, you will see your overall membership visibility driven by the site.
News
The News tab is where you will find direct links to community content, such as Hot Deals, Member to Member Deals, Job Postings, and the Member-Only Social Feed. You can view other member's content or manage your own content by clicking the appropriate tab in the side menu.
Settings
From the Settings Menu you can view a summary of what has been completed on your profile and easily click through the side menu to make additions and adjustments.
TIP: From the Settings Menu, you can obtain a Membership Badge to proudly display on your Website!